"This is like a modern-day Spanish Inquisition or the
Salem Witch Trials."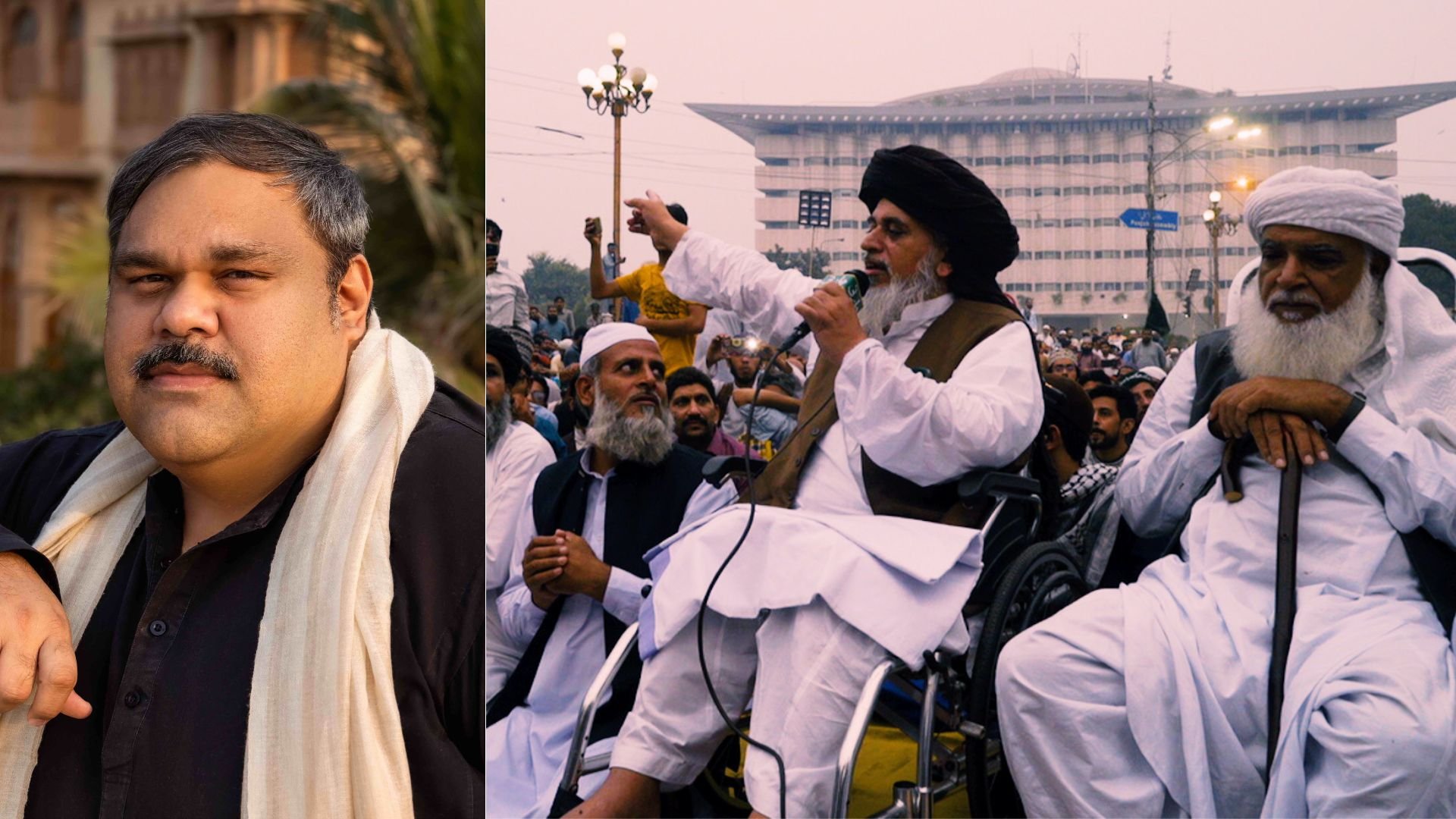 Freedom of speech and religion may be rights some American citizens take for granted – but in other parts of the world, choice of words and faith can have fatal consequences. 
In "The Accused: Damned or Devoted?," award-winning filmmaker Mohammed "Mo" Ali Naqvi ("Among the Believers") examines the origins and very human consequences of blasphemy law. Naqvi, a Pakistani American director and producer, newly-inducted member of The Academy and a 2023 Wyncote fellow wanted to hear directly from and expose the parties who support Pakistan's blasphemy law – like cleric Khadim Hussain Rizvi and former Prime Minister Imran Khan, who has been charged with blasphemy himself – and put into context how it relates to power and politics in the country.
"The specific law that most people are aware of, and it's pretty notorious, is Section 295c, which basically states that if anyone directly or indirectly disrespects or insults the Prophet Muhammad, they can be put to death," Naqvi explained. "No one has officially been charged and put to death in all of Pakistan's history, but people have been murdered as a result of mob violence, extrajudicially. It's like a modern-day Spanish Inquisition or the Salem Witch Trials."
In the documentary, Naqvi and his team feature four cases of Pakistanis – a Christian man and woman, a Muslim and a governor – accused of blasphemy on the backdrop of Pakistan's general elections, in which cleric Rizvi's campaign heavily relies on his advocacy for punishing blasphemers. Naqvi spoke with WORLD to share why it's paramount for American audiences to understand how the law and human rights play a part in politics and see why nuance and representation matters in filmmaking and media.
WORLD: Tell us about your journey as a filmmaker and Pakistani American.
Mo Naqvi: [I was living in New York City] the summer of 2001. I was doing theater, making these off, off, off-Broadway productions – mostly directing and producing plays. Then I witnessed 9/11, and it was such a seminal event in my life. It changed the trajectory of the kinds of films, and the kind of work, that I was going to do, because I was a "Mohammed" in a post-9/11 America.
There was a lot of misinformation. There was a lot of Islamophobia. And a lot of Muslims and people who look like me were being targeted, so I thought it was in my interest, just as an artist, to actually clear the air and tell the true stories from my homeland. That's how I started getting into documentary filmmaking: to investigate what the reality was, to break down a lot of the narratives that were vilifying Muslims as a community. I wanted to delve deeper into that and challenge those notions.
W: How does your identity impact your storytelling?
MN: There's a very specific geographic thread in terms of the films that I've made: South Asia and Pakistan. Many artists and filmmakers have a certain relationship to the place we're from, and we keep returning to it. Pakistan, for me, is such a multi-tiered, complex society that I could spend my entire life and still not be done telling stories from there. The same goes for the United States. Everything is so heterogeneous; it's so important for us, as storytellers, to tell those different stories so people can be better informed and educated and not paint one country or one people with one wide brush stroke. 
My films, across the board, are very activism-driven. And I didn't choose it…it just happened. I like to challenge authority, like military dictators, clerics and Imams, who are using Islam – not real Islam, but Islam – to propel their own political agenda to persecute and victimize people. My family has been a victim of that.
When I say I'm from Pakistan, I actually am Pakistani American. I've grown up in both countries, and I still continue to go back and forth. When I was 9 years old, I belonged to a Shia Muslim family. It was the '90s in Karachi, Pakistan, and it was the peak of sectarian violence. There were a lot of people in Karachi, especially Shia middle-class families, who were targeted by sectarian groups, and my uncle was murdered. That was such [an impactful] event in my family; half of them had to run overnight.
As I grew older, I made it a point to confront and meet people like Maulana [Abdul] Aziz or cleric Rizvi, to hold them to account and to understand their story – where they're coming from. As much as I am an American, I am also a Pakistani. I am very social justice-motivated, and I make these stories because I want these things to change in my home country. 
W: Why did you decide to make "The Accused"?
MN: When I was first approached to do this film [by the BBC], I declined; this is such a dangerous topic to take on, because many people who want to criticize or amend the law can be falsely charged of blasphemy and murdered. Almost all of my films are really risky; I'm always putting myself in situations where I'm interviewing the head of militant groups, the Taliban, or allies of al-Qaeda, so I'm kind of used to that. But [blasphemy law] triggers such an emotional response that I didn't want to put myself or my crew in danger.
I happened to be in Islamabad, the capital of Pakistan, in the fall of 2017, and I got stuck there because of the Tariq-e-Laqbeq Pakistan (TLP), the political party headed by cleric Rizvi. They had taken over Islamabad and shut down parliament, the airports, everything. I couldn't fly out. A few weeks earlier, Pakistan parliament had decided to pass legislation that would change the verbiage on some of their oath-taking language. It was being seen as something that could eventually be used to soften the blasphemy law. So, [the TLP] made the law minister resign and the government had to kowtow to [cleric Rizvi]. This is our elected government saying, "Sorry, we take it back." They rescinded their amendment, which could have eventually led to the amending of the blasphemy law itself. They even gave [the TLP] money for all the upset and inconvenience.
I was like, "No way." We are not going to have my country bow down and fall in line with what this fanatical despot wants. Someone who is using Islam for his own political purposes, using my faith – a bastardized version of it – for his own political power. I had to expose him.
W: What do you hope audiences take away from your film?
MN: It's important for viewers to understand that the blasphemy law itself is contested amongst Islamic scholars. I'm not an Islamic scholar, but what's being used in Pakistan is a law that's relatively new and was forced in place; many theological scholars even object to how it's interpreted. Some say there is no death penalty.
I'm not the only one who was telling the story of blasphemy law; it was being covered in international news and current affairs programming, but it was always presented as Muslims vs. Christian minorities – that was the prism that was being presented in Pakistan, which is ridiculous. About half of the people who are accused of blasphemy are Muslims, and about half of them are minorities – Christians, Hindus and others who only make up about 4% of the population.
There's xenophobia, bigotry and intolerance, but to say that this is Muslims versus minorities is a crazy thing to say. Some of the biggest advocates fighting to get this blasphemy law amended are Muslims themselves. To frame it in that prism is intellectually dishonest. It's wrong, and I wanted to rectify that. 
We're not a small world anymore. Especially when we're looking at narratives from the Middle East – Muslim stories, or stories from Pakistan – they have been pretty one-note. It's a lot of human rights abuses and war on terror. Nuance is where the story lives. We need to take a hold of our narrative. 
Watch the full interview with Mo Naqvi now on YouTube.
---
Discuss and engage with us on Facebook, Instagram, Twitter and TikTok by using the hashtag #TheAccusedDoc and tagging us @worldchannel. Subscribe to our newsletter and YouTube for more features including events and interviews.
Enjoy our content? Consider donating to keep important storytelling like this going, and find more on PBS Passport.