Plant-based proteins are going mainstream and representing a larger share of American diets.
There's a quiet revolution taking place in agriculture, although you can't really see it in the fields around just yet.
Listen for it instead in the kitchen, where it's no louder than the sizzle of a plant-based burger on the griddle or the whisk of a plant-based egg mix being readied for one.
More people are incorporating plant-based protein into their diets, adopting what Abigail Krentz, a senior research scientist at the University of Minnesota's Plant Protein Innovation Center, likes to call a "flexitarian" approach to their diets. They still turn to meat for much of their protein, but are increasingly open to plant-based protein as well.
Plant-based protein is nothing new. It's been a part of diets for centuries, Krentz pointed out while being interviewed in this second installment of "Minnesota's Alt-Meat Revolution," a joint project involving Pioneer Public Broadcasting System, the West Central Tribune and WORLD.
What has really changed, explained Krentz, is that the move toward more plant-based protein has gone mainstream. America's early forays into alt-meat products in the 1970s and into the early 1980s focused largely on bean-based burgers and soybean-based imitations of meats. Their intended customers were vegetarians and vegans, which represented only a small subset of the larger consumer market.
These early products, including some soybean-based versions produced by Dawson Mills in Dawson, never gained a strong hold in mainstream markets.
The Plant Protein Innovation Center where Krentz conducts her research is housed in the Food Science and Nutrition Building on the U of M's St. Paul campus. In some respects, the work is very much in keeping with the tradition of the Green Revolution launched in part by the University's Norman Borlaug, who brought modern agricultural production technology to the world.
Much of what is learned at the center is meant to be transferable to the world at large. One of what she calls the most exciting projects is in collaboration with Microsoft and involves identifying all the unique characteristics of the proteins contained in a wide range of plants.
The proteins in various plants carry compounds that can have off flavors. Identifying them and developing ways to remove them can be essential to what this revolution is all about: Bringing more plants to the table for humans.
Because first of all, they've got to taste good. "People want to consume what they are comfortable with and seem very familiar to them," said Krentz.
That understanding is essential to knowing why the western Minnesota community of Dawson, population 1,454, is again playing a leading role in the transformation taking place.
It's home to PURIS, now housed in the 200,000-square-foot facility originally built by Dawson Mills. A PURIS workforce of roughly 100 devote their days to extracting protein from yellow field peas for use in a wide range of human foods, from plant-based burgers to plant-based eggs, diet supplements and snacks foods.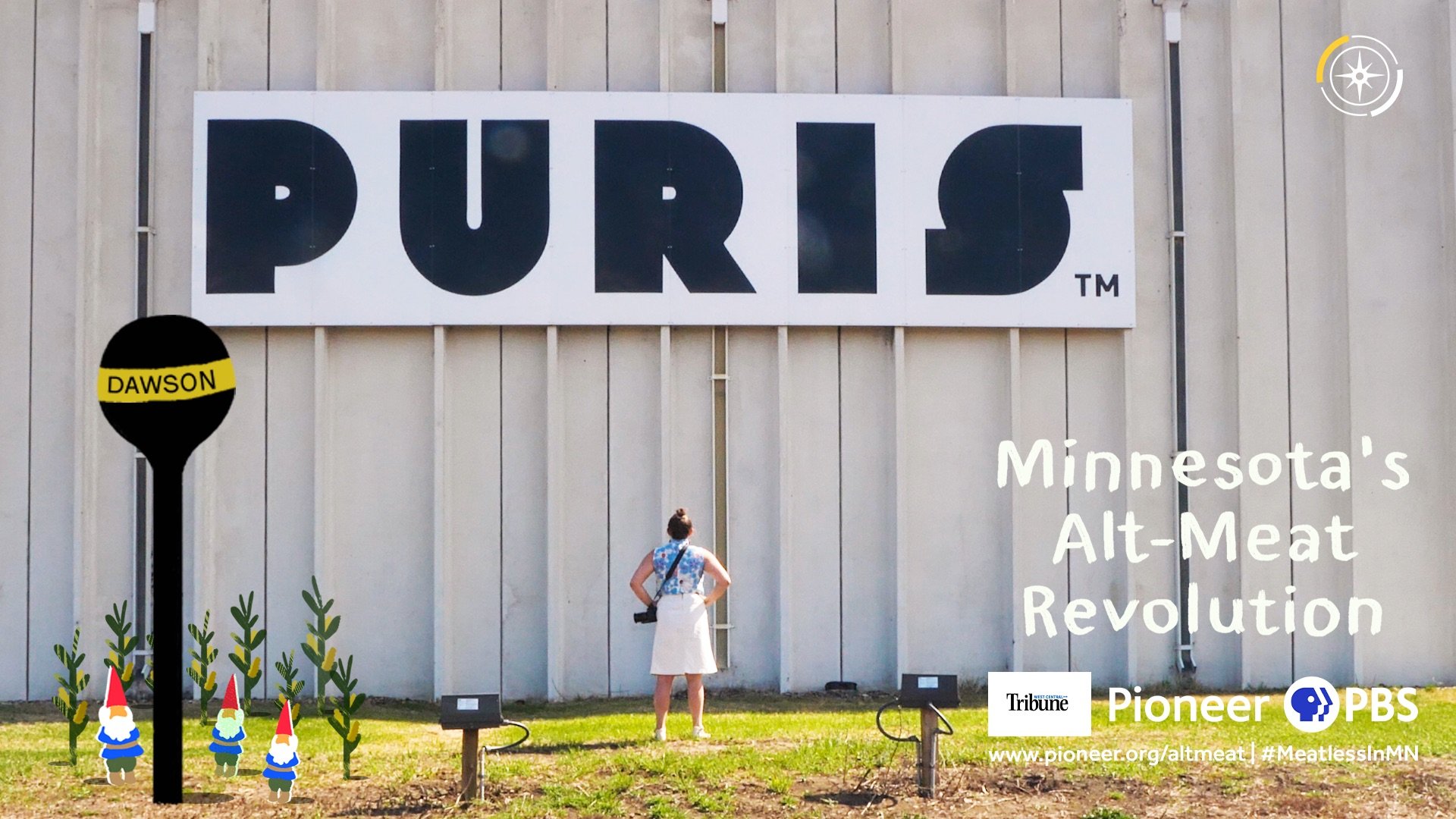 Company founders Jerry and Renee Lorenzen realized in 1984 that as the world population grew to a projected 10 billion, plant-based protein would have to play a larger role in feeding everyone. Jerry Lorenzen saw the inefficiencies that are inherent in raising crops to feed to livestock to provide protein for people, his daughter, Nicole Atchinson said during an interview for this series at the PURIS headquarters in Minneapolis.
She and her brother, Tyler, now oversee the company that their parents launched. Atchison is CEO of PURIS Holdings. She said her father originally began his work by selectively breeding soybeans as a source of protein.
Soybeans remain a big part of the company's business, but her father also discovered the benefits of turning to yellow field peas. The texture and other characteristics of the pea protein made them ideal for producing high-quality foods for people, she explained.
The company opened a processing plant in Turtle Lake, Wisconsin, and quickly realized it needed to expand production. A $100 million infusion of capital from Cargill led the company to Dawson, where it purchased and retrofitted what is now one of the world's largest pea processing facilities.
Plant-based burgers get much of the attention, but whether or not they prove to be a staple of the American diet or a fad is not all that matters. Pea protein is finding its way as an ingredient in a growing range of products.
Most important, the trend toward producing more plant-based protein is on firm ground. With a growing world population, there is a need for more diversity in sources of protein. The vast majority of the corn and soybeans raised today are for animal feed or fuel, Atchison pointed out.
By growing more plants to provide protein directly to humans, rather than through livestock, we can raise the food we need on existing farm lands instead of converting more wild lands to production, she explained.
A growing number of consumers are realizing what her parents understood 20 years ago, and are acting on that knowledge. Atchison said consumers today have access to information about the carbon footprint and environmental costs associated with the current food production model. And, consumers are more aware of the health benefits of making plant-based foods a larger share of their diets.
As a result, more are conscious in their buying practices to incorporate plant-based proteins.
The website for the U of M's College of Food, Agriculture and Natural Resource Science points it out this way:
31% of consumers say they will eat more plant protein in the next five years.

36% of those eating meat say they are concerned about the environmental impact of it.
Atchinson said there is another equally important change steering the move toward plant-based foods. Technology. "It makes the food taste great," she said.
The industry has come a long way from the bean- and soybean-foods of the 1970s that were dubious imitations of the meats people enjoy.
Proof of the growing acceptance of today's plant-based foods can be found in the heart of Dawson at the Rusty Duck bar and restaurant, where a pea-protein based burger is now a standard on the menu. With the cameras of Pioneer PBS focused on him, kitchen manager John Schneider admits that he was very skeptical about this plant-based burger when he flipped his first one from the grill onto a bun.
"I was very, very shocked that they actually tasted as good as they are," he said.
While farm fields in western Minnesota remain the domain of corn, soybeans and sugar beets, change may be coming. PURIS now raises most of its yellow field peas in the vicinity of Harrold, South Dakota, where it acquired a processing plant for them. Atchison said there's no doubt. Acre per acre, corn and soybeans and sugar beets produce more profit for Minnesota farmers than yellow field peas.
But she believes the time will come when legume crops such as yellow field peas will be incorporated into the rotation to add nitrogen into the soil for corn. She foresees the day when yellow field peas — or other specialty crops — and corn can be raised in sequence on the same ground in the same growing season, adding to the farmer's profitability.
And that, according to Krentz, is exactly the sort of research already underway in the Plant Protein Innovation Center.
"Minnesota's Alt-Meat Revolution" is produced in partnership with West Central Tribune and Pioneer PBS.

Stay tuned for more #MeatlessInMN
---
Discuss and engage with us on Facebook, Instagram, Twitter and TikTok by using the hashtags #MeatlessInMN and #MyHomeIsHere and tagging us @worldchannel. Subscribe to our newsletter and YouTube for more features including events and interviews.
Enjoy our content? Consider donating to keep important storytelling like this going, and find more on PBS Passport.